Pedro Soler
WANDERING LAB: CHROMATOGRAPHIC ANALYSIS
Wallmounted Laser Print
Continuous
Foyer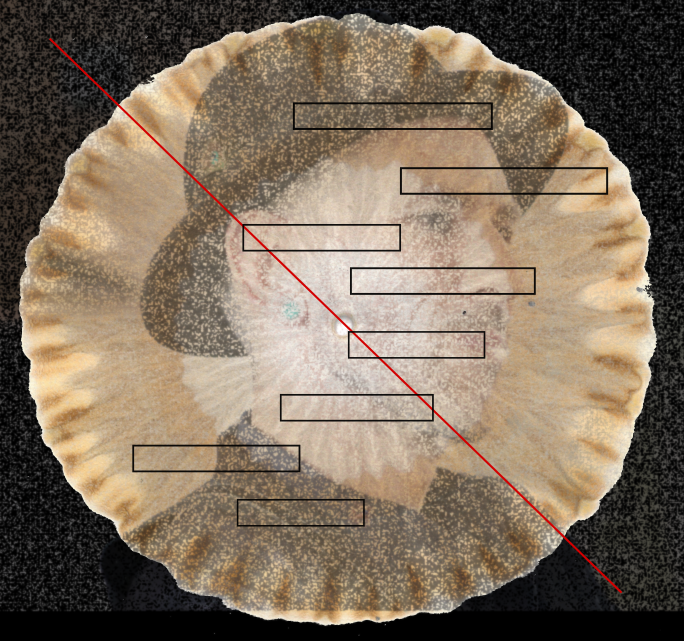 The work employs the technique of cromatography as a method for creating a self-portrait of the artist's wandering lab, moments of a personal, collective and generational journey from digital hopefulness to environmental awareness. The moments and spaces are organised following the reading of the chromatography, situated between organic and mineral, thus escaping from a linear time based organisation to embrace an topographical snapshot of an unfinished being in laboratories of becoming.
The work makes explicit the link between human and humus and the simultaneously temporal and atemporal state of continual flux that is the earth itself and ourselves as wandering, unfinished consciousnesses.
Pedro Soler is doing also UNFINISHED LAB.


Pedro Soler is a mutant bred between multiple cultures and beings and active in spaces related to art, free culture, feminism and ecology. They have worked in digital video programming, lab facilitation, text generation, exhibitions, events and farming. In 20th century Carcassonne they created the experimental Musée Lilim and in 21st century Barcelona they curated live audiovisuals in Sonar festival and directed the art production centre Hangar, while immerse in experimental music and video, post-pornography and free software. Their experience in rural Asturias in 2011 was a turning point in their relation with the non-human and since then they have have worked at the intersection of art, nature and technology, increasingly in awe of plant civilisation. Exhibitions curated include The One and the Many (Barcelona and Cairo, 2010), L'espai de l'intent (Barcelona, 2010), Orbitando Sátelites (Gijón, 2011), Una de cada (Medellín, 2014), Arte en Órbita (Quito, 2015), Transmestizx (Quito, 2016), ¿Como decir nosotrxs? (Mexico, 2017) and La tecnologia somos nosotrxs (Cuenca, 2018). Some significant texts are "Las Grietas" (Spain, 2012) "Tecnomagxs" (Mexico, 2013) and "Feminismos y el Cambio de la Percepción" (Ecuador 2016). Recently they have been making wooden benches – in Chile (Rao Caya) and Ecuador (La Experimental) - and sitting on them. http://word.root.ps
Image: Pedro Soler




Documentation