Dimension Plus
SOYBEAN FUTURES
Installation
Continuous
STWST Upper Maindeck
Sound performance
Saturday, 18:00-18:30
Maindeck Staircase
Tofu Making workshop
Saturday, 11:00-01:00
STWST Kitchen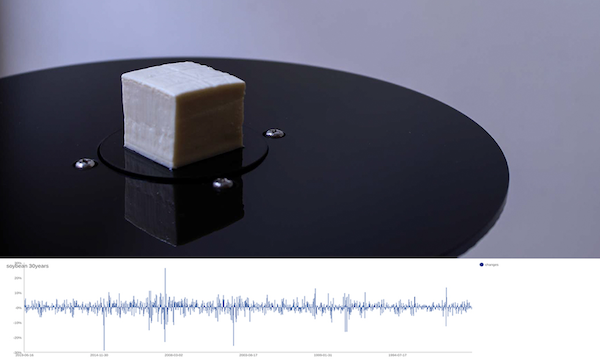 Soybeans are the main raw materials for various bean-based foods, especially tofu. They are an important source of food and protein and cultural symbol in the eastern world. However, globalization has turned the supply and demand of soybeans into bargaining chips and weapons in the global trade war. This work titled "Soybean Futures" converts the global soybean trading data into sound waves which shake the bean curd installed on a stereo plate. Reflecting how the human life has been impacted by the fluctuation of numbers, the degree of tofu vibration is determined by the shifting global soybean index. The installation involves a process of studying and making tofu suitable for the vibration effect, while extracts, organizes, and analyses data from the global soybean market including historical data from 1990 to 2019, data from trade war with China during 2017 to 2019 and real time trading data. Converting the trading data into soundwaves, the installation features a piece of flawlessly and deliciously white tofu trembling on a simple dark plate, recalling conflicts and turbulence calculable by trade algorithm.
Sound performance
Saturday, 18:00-18:30
Maindeck Staircase
Taking the soybean trading data, the sound performance renders the fluctuating numbers into acoustic output, making the tofu turbulence into variable soundscape.


Soybean Futures is a Dimension Plus production.
Dimension Plus, a New Media Arts Creative Team, founded by Escher Tsai (Taiwan) and Keith Lam (Hong Kong) in 2009 with a focus on art and technology, new media-embedded space and cross-discipline interactive design, embedding New Media Arts into industry, enhancing audience experience by interacting and touching with the media. Their creative showcases in venues such as expos, exhibitions, art festivals internationally. They were awarded at DFAA2013 (Design For Asia Award 2013) and Asia Digital Art Award 2012 at Japan, etc. http://dimensionplus.co
Soybean Futures crew: concept/direction: Escher Tsai, tofu making: Jess Huang, installation design: Wei-Ting Lin, software engineers: Yu-Tung Hsiao, Seth Hon, sound performers: Seth Hon, Weiwei Huang.
The exhibition is made possible with support from ministry of culture, Taiwan.
Tofu Making workshop + TALK TOFU:
Saturday, 11:00-01:00
Kitchen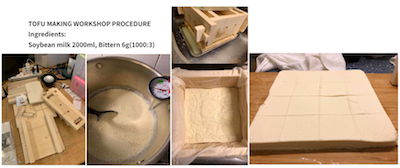 During the tofu making workshop, we hold a conversation with the artists, the tofu makers, the software engineers, the trade war agitators.
Moderated by Manray Hsu, an independent curator and critic. His intellectual work focuses on cultural conditions of globalization, the relationship between aesthetics and politics, and geopolitical situations of contemporary art. He is currently developing Herbal Urbanism with OK Center for Contemporary Art in Linz as part of Future City project 2022.




OPEN CALL Tofu Making Workshop
ALL OPEN CALLS






Documentation