Thomas Lehner / STWST
UNFINISHED ARCHIVE
STWST-TV Form & Content / Live & Relevance
Keynote Speech & Video Show
ACT RE:ACT [session 1]
STWST Club
Saturday Night
19:32 - 21:00 (88min - ACT)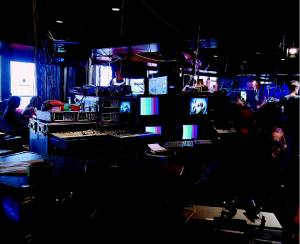 Television was still the central and monopolised medium in Austria in the 1980s. It came from above. What was shown on TV was believed and regarded as the truth. Like at church. The individuals were parts of a consuming mass and shared simultaneously and collectively program, information and emotion.
Using television as a tool of art instead of merely showing art on television - that was therefore the goal that STWST set itself in the mid-1980s. Television was to be turned upside down not only formally and technically, but also socially, politically and socioculturally. From the beginning, the question arose: "What if every receiver could be a transmitter at the same time? This often went beyond the imagination of the interviewees at the time.
In his video lecture on STWST TV, Thomas Lehner shows excerpts from STWST's extraordinary television art projects, which had begun in 1987 and essentially thematized the paradigms of media and net art with foresight - before the World Wide Web shifted the paradigms of technology and ideology on a grand scale. Thomas Lehner contextualizes, provides backgrounds from the practice of that time, illuminates scandals, and does not spare his criticism of the conditions of yesterday and today. "For God is actually dead and television has already started to smell funny. But also the so-called 'social media' and other developments of the Internet already stink to heaven." As utopian as the idea that every receiver could also be the sender was back in the 80s, so little has changed today with the new technological developments in a creed controlled by a higher authority, i.e. in the manifest and increasingly totalitarian power structures. The Enlightenment has once again given way to diffusivity.


Archiv STWST TV


Thomas Lehner worked for many years in various leading positions at STWST. Above all, he was significantly involved in the conception and implementation of numerous STWST art projects of the 80s & 90s. He developed the telepresence and virtual reality method "P.R.D." [Parallel Space Display]. He works today as a freelance artist and independent filmmaker. Lives and works in Vienna and Santiago de Cuba.
Image: STWST