UNFINISHED CLUB


Curated by Jürgen Brüning
UNFINISHED PORN
ACT RE:ACT [session 4]
STWST Club
Saturday Night
01:30-3:00 (90min - ACT)
Unfinished Porn presents an array of five personal interrogations in our ever transforming world presenting sexual communication incooperating Death, BDSM role play, fisting and sexwork as tools to unleash power structures and utopien fantasies to resist these mechanisms.
Piedad
Naya Pascual (TheOutdoorCat), ES/DE 2017, 16'
OV with English subtitles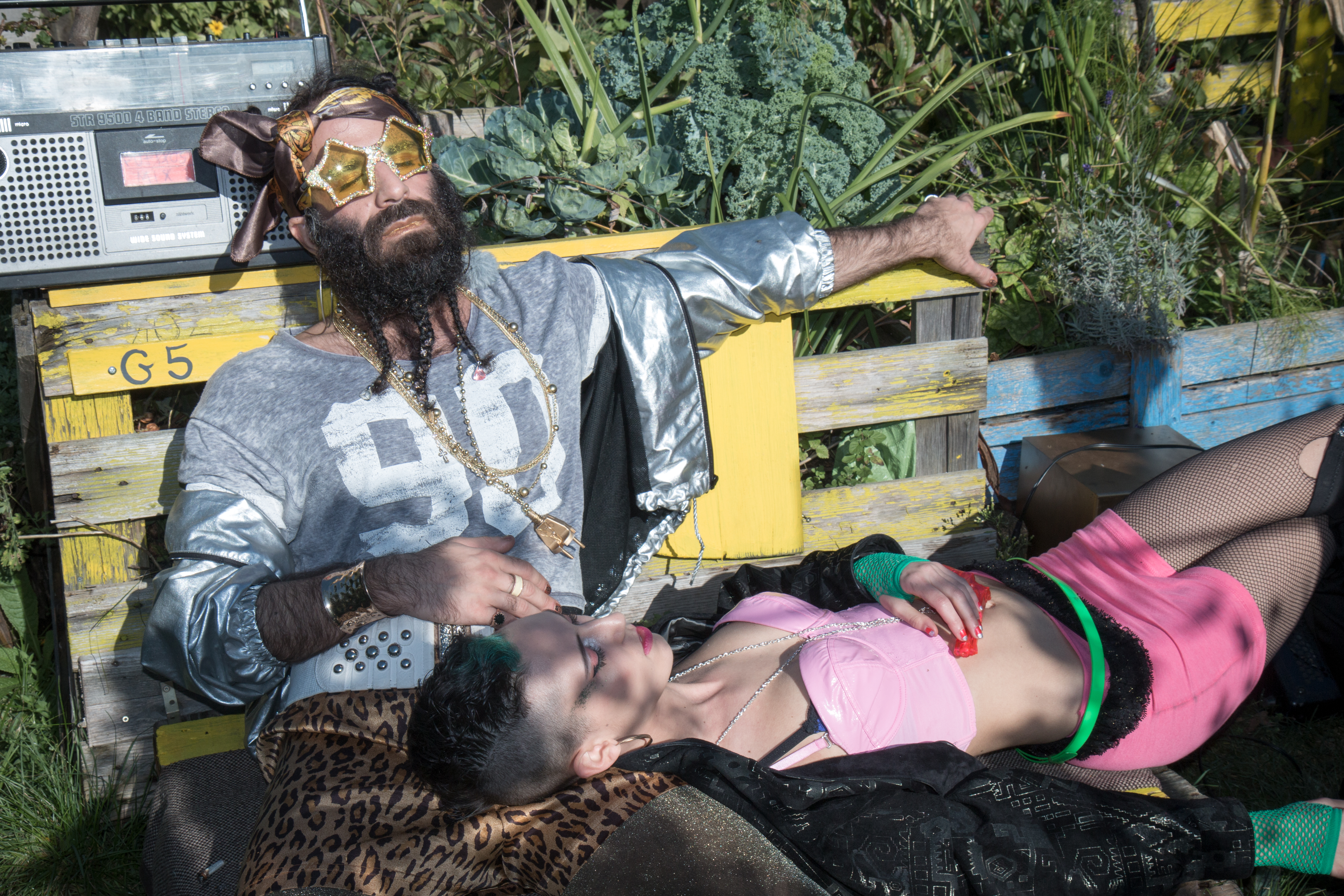 Rodolfa and Maria Antonieta, two sexworkers with a deep passion for spliffs and trap music, hang around all day at their workplace: a magic garden at an abandoned airport ground in Berlin. When their colleague Asunción suddenly appears with the corpse of a dead client, they discover how easily sexual desire can cross the borders between the living and the deceased. A tragicomedy that explores ideas never touched before. "Because death really suits some people well"
Fisting Club Ep. 1
Dir. Shu Lea Cheang, GER/UK 2019, 10'
Engl. OV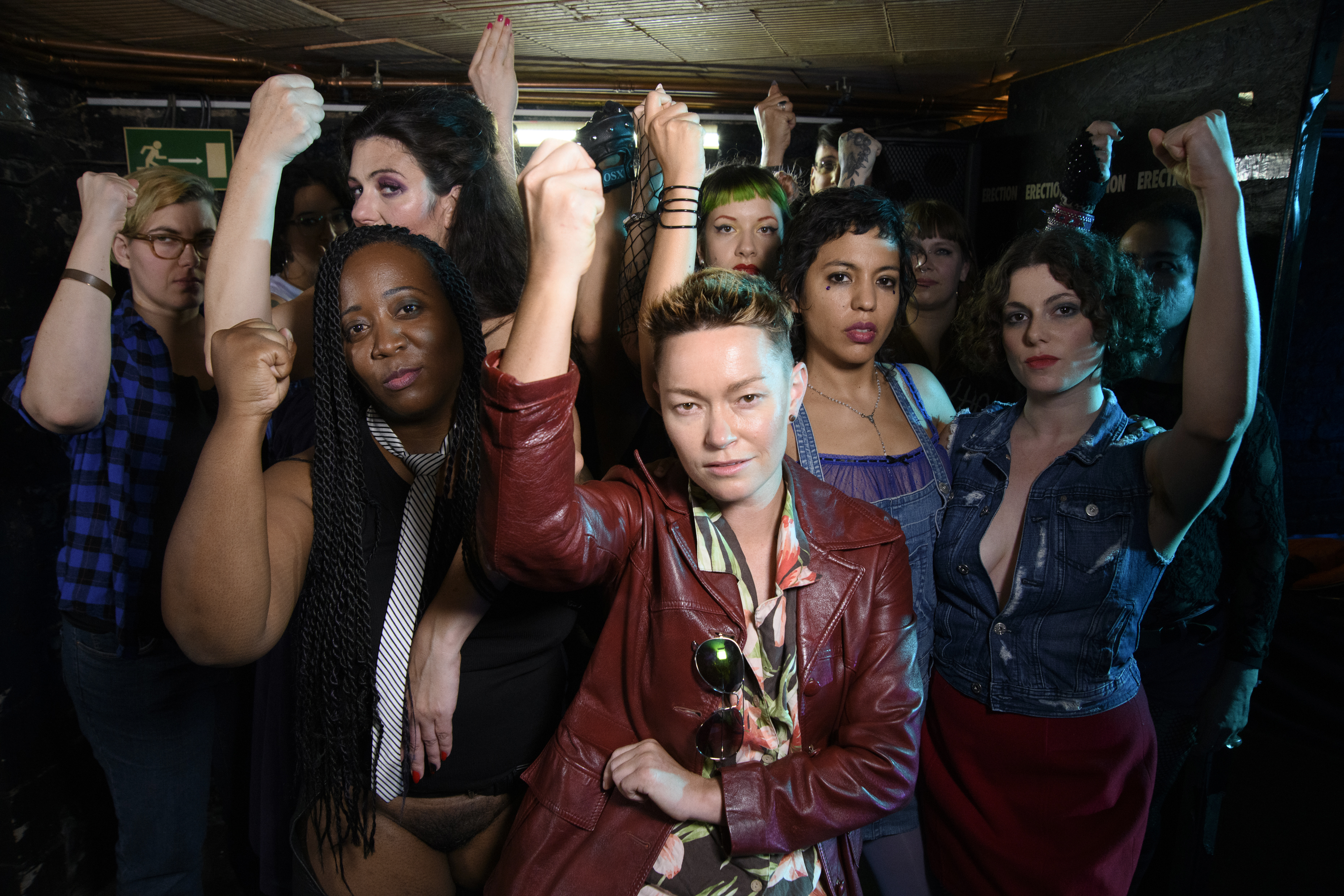 Fisting Club gathers an array of well known sex performers like Jiz Lee, Sadie Lune and Lina Bembe as well as newcomer Romy Furie and Sky Deep to celebrate the rules of the Fisting Club. FISTING CLUB appropriates eight rules from Fight Club (1999) and makes fisting sex a self-emancipation act. FISTING CLUB channels sexual passivity into group fisting, taking us on a tunnel spin to arrive at the ultimate sexual ecstasy. Ultimately FISTING CLUB networks a generation of nouveau queer punk fisting for the rights and wrongs of the societies we live in today and tomorrow. 
Fisting club rules 
1st rule, you do not talk about fisting club
2nd rule, you do not talk about fisting club
3rd rule, someone yells QUEER, fisting  is over
4th rule, only two to fist
5th rule, one fist  at a time, fellows.
6th rule, no knickers, no sneakers.
7th rule, fisting would go on as long as they have to
8th rule, this is your first fisting club, you have to fist


No Democracy Here
Liad Hussein Kantorowicz, DE/PS/IL 2017, 25'
English OV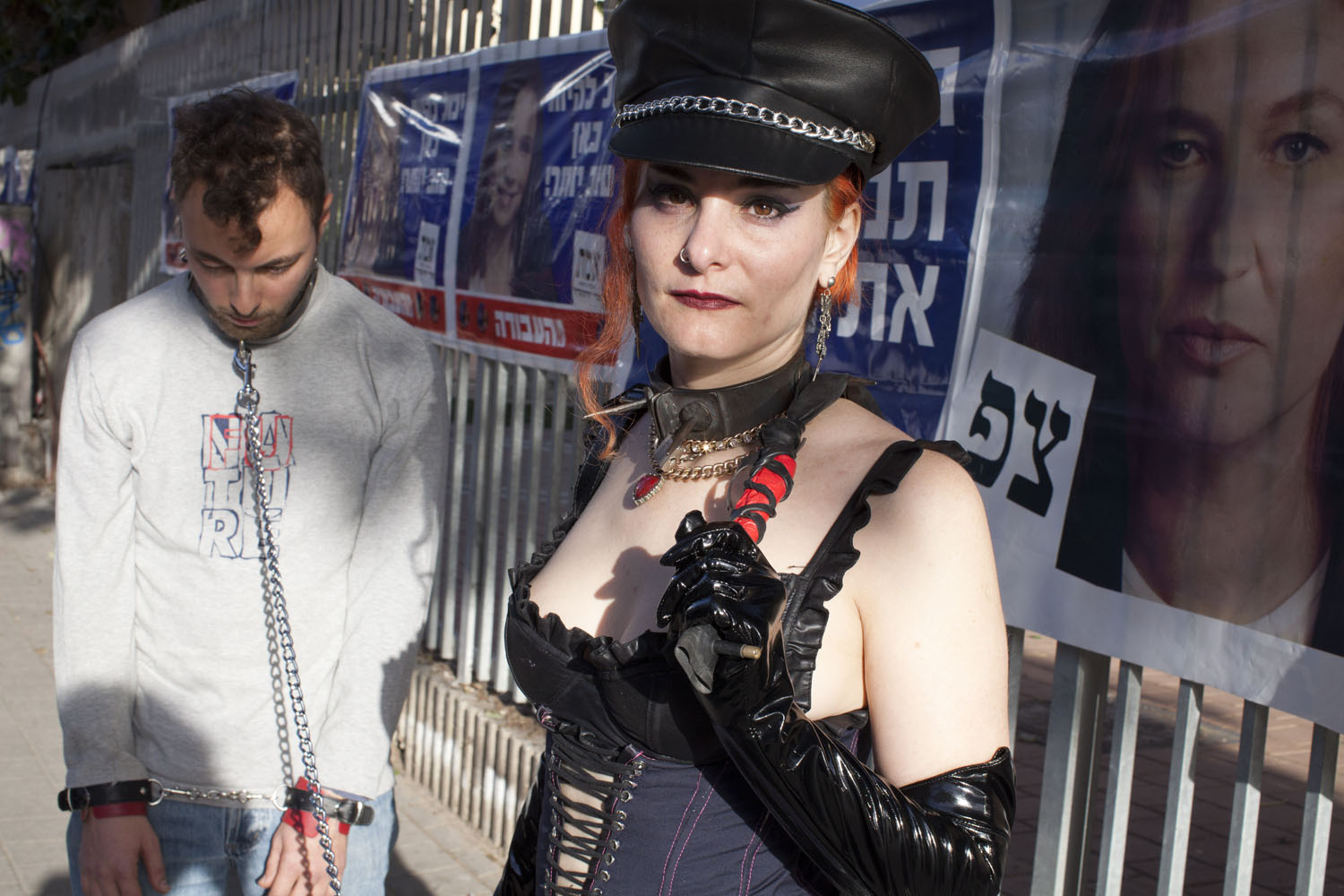 No Democracy Here" deals with the topic of political domination. Liad, a lefty human rights defender dominatrix re-educates her right-wing-leaning obedient submissive slaves to follow upstanding leftist ethos and morals like freedom of movement, economical justice, direct democracy, and human rights by using domination practices such as humiliation, doggy-training, coercion, and administration of pain. It's all consensual! On election day Liad decides to give her slaves the ultimate political domination session – outdoors and in public, where she teaches them about the pillars of democracy. At the end she forces them to engage in the ultimate political BDSM practice – voting, but only for the 'correct' political party, one that reflects her wishes and stands in stark opposition to theirs. The general public, which serves as a witness, interacts and reacts to the political domination and the questions that it poses in its own unpredictable ways. This film wishes to explore the meaning of 'consent' and 'free will', which are frequently used in a BDSM-context, and apply them to the context of electoral democracy and public political processes.The film was shot on the streets and the voting poles in Israel on and around election day.


Sewers of Heterosexuality
Marianne Chargois, FRAU 2018, 11', French with Engl. subtitles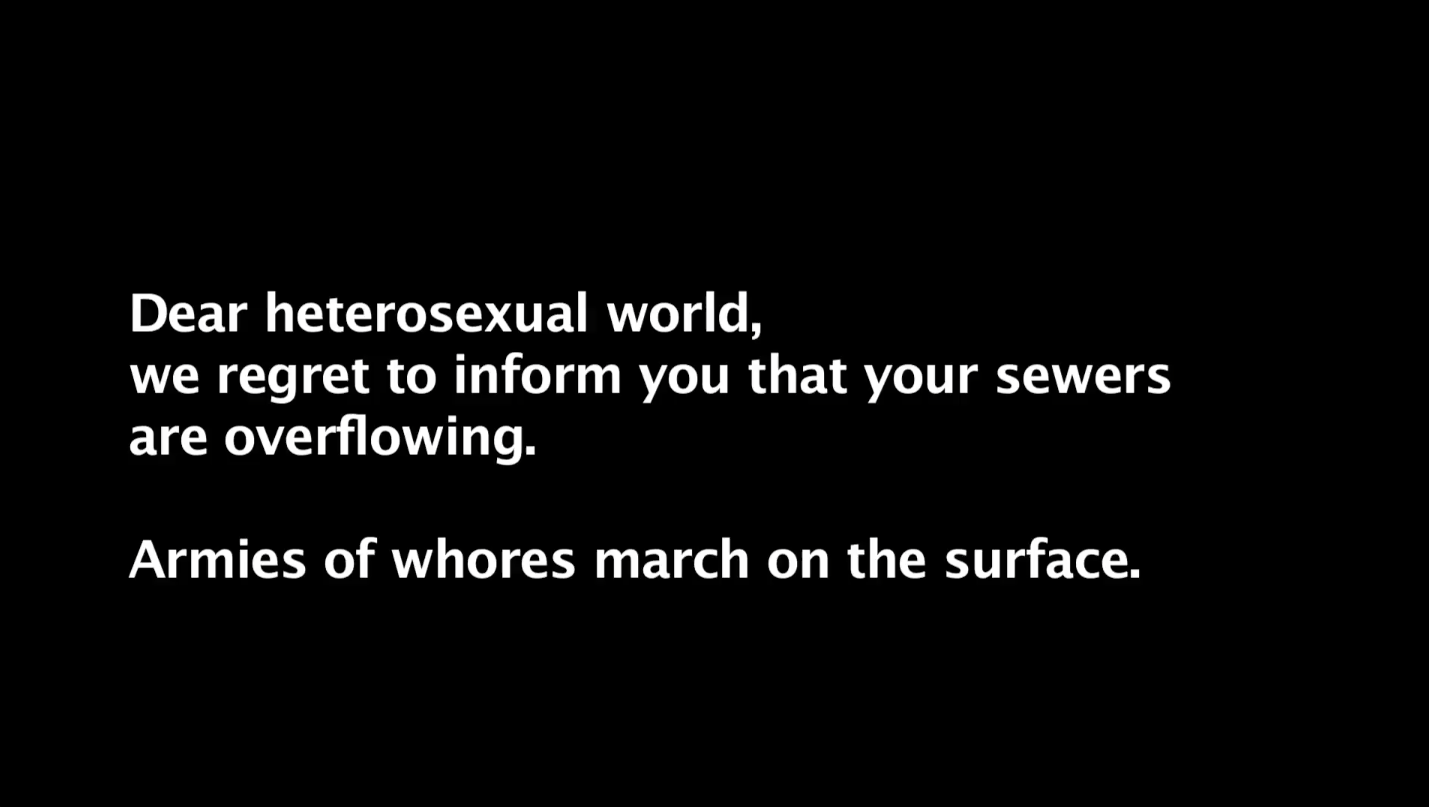 Marianne Chargois has been a professional Dominatrix for 10 years and documents her practice from the inside through various sound and video recordings. Taking as a starting point the fetishisms she practices most with the clients, namely enemas, fist fucking, and urethral probes, she develops an analysis on toxic and dominant masculinities, their possible subversions, as well as her vision of sex work as a place of economic autonomy and empowerment of minorities. Between documentary, obscenity and analysis of practices, the video art the Sewers of Heterosexuality is a love manifesto to all ho's of the world.


Blut
Jürgen Brüning, DE 1998, 26'
German/English with English subtitles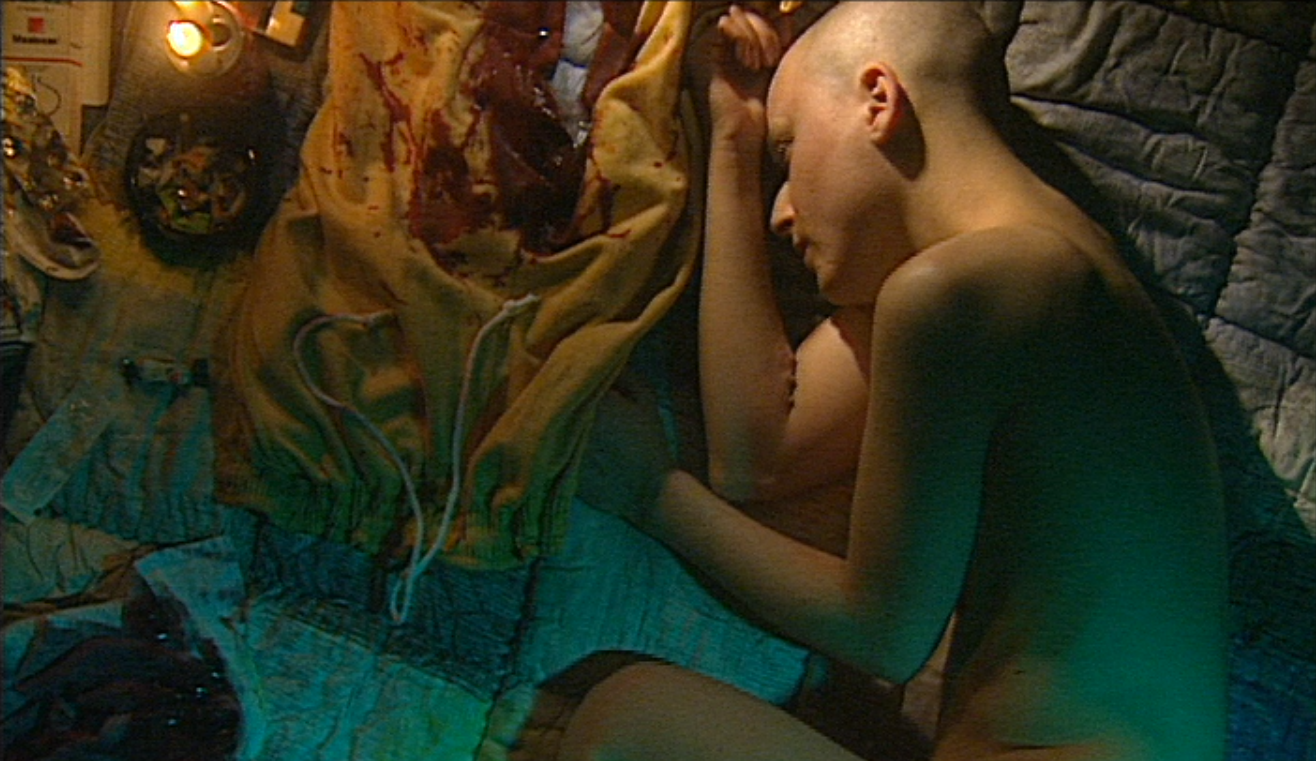 When does your longing become an obsession and leads towards self-destruction. Ritual BDSM role play combined with the diary of a junkie commented by German pop singer Marianne Rosenberg form an analytic observation of the destructive power of a society with no empathy.


UNFINISHED PORN is curated by Jürgen Brüning: https://pornfilmfestivalberlin.de/
Images: Rights reserved.